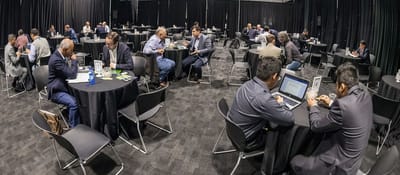 Autotech Council's Matchmaker Meeting Service facilitates personal introductions via pre-arranged, private, 15-minute meetings both in person and virtually after select meetings. The result is a series of meaningful introductions over concise, private meetings in a short time among delegates committed to technology discovery and partnership development.
This private service is available once in the Spring and once in the Fall, generally following an Autotech Council meeting and is available for free to Autotech Council members and for a fee to select non-members. Participants can take meetings onsite in Silicon Valley on one day and take more meeting online the next. Meetings generally run 10 to 15 minutes, depending on whether they take place online or in-person, and can include multiple representatives from each company around a table or in a virtual meeting room.
HOW IT WORKS
MatchMaker delegates set their profiles and preferences in advance of the meeting day, and use our MatchMaker tool to accept, request, decline, and schedule meetings with other MatchMaker participants.
Taking networking beyond the serendipitous, Autotech Council's MatchMaker Service encourages delegates to plan their networking strategy and focus on those companies who are best placed to move their business goals forward. The system automatically selects mutually convenient times to meet and, when confirmed, automatically allocates a location for the meeting, whether a physical table or a video link. With built-in messaging available before and after the event, the face-to-face meetings commence without pre-amble and follow-up is easy.
Fill your schedule in advance with back-to-back meetings
Filter companies to find the right technology match
Filter people to find the right partnership match
Include extra people from your company to move the conversation forward more quickly
Take advantage of extra information to be better prepared for each meeting
Continue conversations post-event via the portal
GET MORE MEETINGS
A well phrased elevator speech, succinct product profiles, photos and images, all contribute to introduce your innovation prior to the event. An intuitive interface makes setting up profiles easy and effective.
Profiles are set up prior to the MatchMaking event and can be reviewed and updated as needed
Add personal details, including photo so that prospective partners can recognize you
Add company profile, including logo, descriptions, keywords for meaningful matches
Add product profiles, include images, descriptions, development stage, market segment for focused conversations
MatchMaking takes place online over 2 weeks before the meeting day, with the majority of meetings scheduled the week before. Companies can field multiple delegates, request a specific meeting time, and requests may be accepted, declined, rescheduled or waitlisted, dependent on your individual goals
THE AUTOTECH COUNCIL DIFFERENCE
Nearly every conference offers a meeting service, but not all of them are managed in the way that we do here are the Autotech Council. Our focus is on helping participants secure the meetings they need - onsite, online or beyond the event.
Product profiles make it easy for prospective meeting partners to understand more about your proposition and are keyword searchable
Attendee lists are searchable and you can "favorite" individuals as you triage your outreach
Pre-assigned availability ensures meetings are only scheduled at mutually convenient times
The service element kicks in if you are having trouble getting requests, accepts, declines, or other feedback. Our team gets involved to help you fix your demo, adjust your pitches, nudge unresponsive people, and facilitate email introductions when the planets don't align or a meeting is missed
On average, delegates who use our MatchMaker service get more introductions and more continuing conversations than they expected.
The most successful company from our last MatchMaker event was a Series B startup with 2 representatives who took 19 meetings between them, and the average participant who actively used the MatchMaker to request and curate meetings in Oct 2021 got 8 personalized meetings.
2024 OPPORTUNITIESScience Fair 2024
, October 16-17 in Silicon Valley
REGISTRATION OPENS IN MAY
Science Fair exhibitors, Autotech Council members, and delegates from the mobility innovation ecosystem put the MatchMaker to work for them each Fall at our
Annual Science Fair
- a 1-day expo that spotlights the latest in mobility innovation and is the Autotech Council's largest meeting each year.