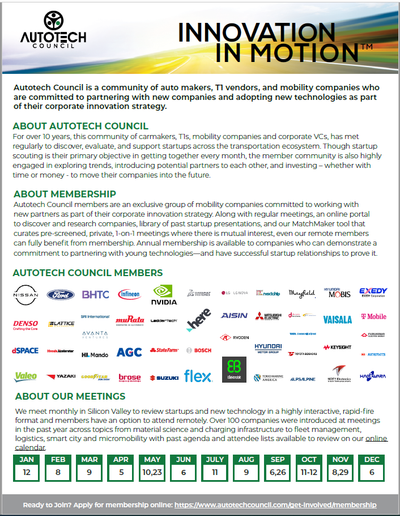 Autotech Council is a membership-based community of auto makers, T1 vendors, and mobility investors who are committed to partnership as part of their corporate innovation strategy. Members meet monthly to discover, evaluate, and support startups in the mobility ecosystem.


Since 2012, when the Autotech Council was formed by forward-thinking auto manufacturers and their T1 vendor partners to help discover startups, this community has bridged the gap between innovators, which are often hard to find, and the traditional supply chain, which historically changed slowly. Since then, membership has grown to include many different parts of the mobility ecosystem - from semiconductors, AI, materials, interiors to name a few to insurance, energy, lighting, sensor, mapping, and data companies and more.
DOWNLOAD MEMBERSHIP BROCHURE
Through innovation and topic-focused monthly meetings that deliver a constant flow of introductions, Autotech Council members get earlier discovery of new innovation, better understanding of technology's potential impact and timing, access to more entrepreneurs and investors, and in the big picture—a head start on new mobility and transportation solutions.
Along with regular in-person meetings, the Autotech Council community connects to innovation online. Through virtual meetings with moderated networking and focused breakouts, an online portal to discover and research companies, our member library of all startup presentations, and our MatchMaker tool that curates pre-screened, private, 1-on-1 meetings where there is mutual interest, even our remote members can fully benefit from membership.
Ready to get involved?
Companies involved in mobility innovation are welcome to participate in this community. With 100s of opportunities to pitch or demo every year, monthly opportunities to meet and discover, ongoing opportunities to network and research, and a few marketing opportunities mixed in, everyone from global car brands to venture-funded startups can get involved.